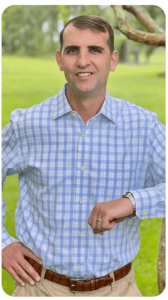 Dr. Bonneval was born and raised in Raceland, Louisiana. He graduated from E.D. White High School in Thibodaux in 1998 and then earned his Bachelor in Science degree from LSU in Baton Rouge in 2003. 
Dr. Bonneval attended medical school at LSU Health Sciences Center in Shreveport and graduated in 2007. He returned to Baton Rouge and completed the LSU Emergency Medicine residency program at Earl K. Long Hospital. He spent the next 10 years practicing as a board certified Emergency Medicine physician at Our Lady of the Lake Ascension hospital.
After spending more than 10 years in Emergency Medicine, Dr. Bonneval felt that there was something missing from his career. He met Dr. Gitter in 2020 while his wife was a patient and was eventually recruited by Dr. Gitter to join his practice. He was impressed not only by the spectrum of venous disease in the clinic and the comprehensive approach to treatment, but also by the genuine doctor-patient relationships that were formed through the treatment process. He realized that this important bond was missing from his career in Emergency Medicine and ultimately made the decision to join Dr. Gitter in his specialized practice of diagnosing and treating venous disease. Dr. Bonneval was personally trained by Dr. Gitter and has gained invaluable experience since joining the practice. He remains board certified in Emergency Medicine and is a candidate for board certification with the American Board of Venous and Lymphatic Medicine as well as certification as a Registered Sonographer of Phlebology through Cardiovascular Credentialing International. 
Dr. Bonneval has lived in Louisiana his entire life. He enjoys spending time in the outdoors and loves to hunt and fish. He spent 12 years in the LSU education system and is a Tiger fan that bleeds purple and gold. He is a devoted family man and is raising four adorable daughters; Georgia, Allie, Adele and Gabrielle with his beautiful wife, Amy.
Monday through Thursday from 7:30 am to 6:00 pm.