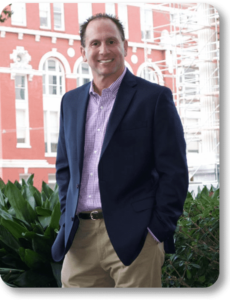 Dr. Richard Gitter is a native of New Orleans and grew up in Old Metairie. He graduated from Isidore Newman School in 1981 and then earned his Bachelor of Science degree in Biology from Tulane University in 1985.
Dr. Gitter spent two years in Austin, Texas after graduation from college and, during this time, he continued his pre-medical studies while working as an Adult Probation Officer for Travis County, Texas.
Dr. Gitter returned home for medical school in 1988 and graduated in the top 20% of his class from Tulane University School of Medicine. He then moved to Dallas, Texas where he spent the next five years as an intern, resident, and chief resident in General Surgery at Baylor University Medical Center. Dr. Gitter completed his Fellowship in Cardiothoracic Surgery at the University of Virginia Medical Center in Charlottesville, Virginia.
Dr. Gitter spent the next fifteen years dedicated to cardiac, thoracic and vascular surgery. His last position, before returning home to New Orleans, was the Director of Cardiac and Vascular Surgery at Mary Washington Hospital in Fredericksburg, Virginia as an Associate Professor of Surgery for The University of Virginia.
Board certified in both General Surgery and Cardiothoracic Surgery, Dr. Gitter is the Director and Founder of the Gitter Vein Institute in New Orleans. He is a Fellow of the American College of Surgery and a committed member of many organizations, including the Society of Thoracic Surgeons, International Society of Endovascular Specialists, Society of Baylor Surgeons, Muller Surgical Society, and Vein Experts. Dr. Gitter is the author of numerous articles published in prestigious, peer-reviewed journals. A dynamic researcher who has conducted many successful clinical trials in his field, he is also a regular presenter at medical conferences around the country.
In his free time, Dr. Gitter enjoys participating in such active pursuits as ice hockey, mountain biking, and water skiing, as well as aviation and land development.
He has three children Ben, Jake, and Allie who have always been his pride and joy.
Monday through Thursday from 7:30 am to 6:00 pm.